http://www.youtube.com/watch?v=WbLMfzMgkoo
Dear friends!

The video clip presenting first edition of "Shoe Feast" - event where shoemaking and shoe care are taken very seriously - has been published on YouTube!
During the event a honorary membership was granted to the most experienced and still active Polish shoemaker - Mr Tadeusz Januszkiewicz (born 1927 !!!). You will also see Maciej Zaremba (our supporting member who received a certificate of membership in Bespoke Social Club for 2013), sympathizers, members and invited guests. And ... a lot of shoes!

Enjoy yourselves!
We invite you to read the interview with Maison Corthay which was given exclusively for Bespoke Social Club on 12.02.2013
(interviewer: Damian Kot)
The design of your exceptional shoes is recognizable on our forum, especially because of patina finish and aerodynamic – I would say – shape of lasts. What does inspire you the most when you are thinking of a new model of shoes? What is conducive to creativity?
Pierre Corthay: One of my principal inspiration comes from vintage cars, painting and sculpture. I also spend a lot of time observing people in the streets, they are also a source of creativity.
Only Corthay's customers have this great opportunity to be invited to the glacage evenings. From time to time – as we know – Corthay organizes another type of event, the trunk show. Is there any possibility that in the nearest future such event will take place in Berlin or other location in Eastern Europe?
Xavier de Royere: We love to organize trunk shows in cities where we are not present. It is a great opportunity for us to meet new clients and present our craft. Berlin would be a great place to go ! Vienna would also be an interesting city, as would be Warsaw.
Have you ever been visited in your Paris Atelier by a customer from Poland interested in bespoke shoes? Do you know any polish shoemaker?
Pierre Corthay: I

am not all the time in the shop so I can't be sure of the number of polish customers who have visited our stores. However, I know we have had some polish customers in Paris (1, rue Volney and Le Bon Marché) and in London (24A Motcomb Street and Harrods). We also have some polish 'friends' on our facebook page and polish visitors to our website. Very encouraging !
My colleagues are impressed by your works. What guidelines would you give for someone preparing for making a home-made patina? Is improvisation a vital part of patination?
Thomas Kalflo: The art of patina is one which mixes speed and detailing. Both are key to achieve the successful result. We feel

that too much hesitation in the gesture is detrimental. Dynamics, movement is therefore essential. At the same time, speed should not breed carelessness or precipitation. The art of balance ...
What is your favorite leather to work with? Your bespoke shoes are often made in crocodile leather…
Pierre Corthay: I love to work classical calf and croco. As important is the use and creation of colors.
Had you been wearing Corthay shoes before being appointed to CEO position? Do you remember that day when you ordered your first pair of Corthay shoes? What type of shoes it was?
Xavier de Royere: I am a long-time fan of Maison Corthay; I always thought the shoes were the most comfortable and stylish. So what a privilege and a joy to be an 'ambassador' and work for the future of such a quality and talented Maison.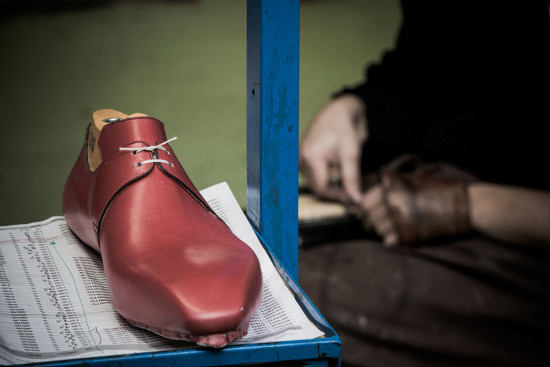 Which model of Corthay RTW shoes would you recommend as the must-have for an aficionado ready to start a relationship with Maison Corthay?
Pierre Corthay: I think the must-have in our collection is the ARCA !
Gentlemen, thank you very much for the interview!
We are happy to annouce that on the 1st of September Maciej Zaremba, a supporting member of our Club, has tied the knot.
With this joyful occasion, we would like to wish all the best to Agnieszka i Maciej!
We are happy to announce that the most prominent Polish forum on classic male elegance hosted under the aegis of our club can now be found at: http://forum.butwbutonierce.pl/